Discover the new metrics that allow you to anticipate your customers' needs.
From customer service to areas focused on their success, post-sales have evolved, and those who understand their real power know they must look beyond the NPS to obtain a more reliable measure of their experience and loyalty.
"What is the likelihood that you would recommend [the company, brand, or product] to a friend or colleague?" The answer – their Net Promoter Score – is a simple but proven measure of customer loyalty. However, obtaining it in a post-transaction survey does not provide a complete view for customer service professionals.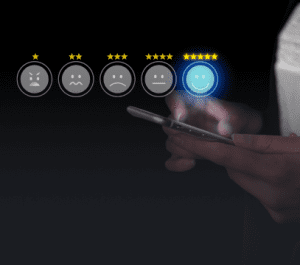 Introduced in 2003 by Bain and Company, the Net Promoter Score (NPS) is classified on a scale of 0 to 10. The score indicates levels of loyalty and helps measure customer loyalty to identify those who could become advocates for it. However, it is challenging to pinpoint specific practical information for service and customer care.
"The broad language used in the NPS metric captures customer intent based on their evaluation of more than just customer service," says Deborah Alvord, Senior Director Analyst at Gartner. "This makes it difficult to identify the actions that customer service should take to improve its performance."
Furthermore, the price or quality of a product can often generate confusion about the true cause of customer evaluations. As a result, customer service ends up with irrelevant perceptions, wasting time and resources analyzing NPS results from transactional surveys.
To measure the customer service and support customer experience (CX) effectively, it becomes relevant to capture more efficient CX metrics such as the value improvement score, the customer effort score (CES), and customer satisfaction (CSAT).
Value Improvement Score (VES)
Gartner studies demonstrate that the impact of emotions on loyalty cannot be measured solely based on how customers feel about a company or a product, which is what NPS measures.
Loyalty depends on how customers feel about themselves when choosing a company or a product. Increasing the value customers perceive through service interactions enhances their loyalty by boosting their confidence in the purchase decisions they've made and their belief that they can get more out of the company's product or service.
By offering and measuring value improvement during an interaction, customer service can deepen a customer's relationship with the company. The measurement of VES validates the impact of customer service's value improvement efforts on increasing loyalty. NPS cannot provide this level of clarity and insight for service and customer care.
Customer Effort Score (CES)
Customer Experience CES measures customers' perception of how easy it is to handle their issue or question during customer service and support interactions. The information gathered through CES measurement helps customer service leaders identify how to reduce customer effort and enables customer service organizations to provide higher-quality interactions at a lower cost.
CES is also a key indicator of disloyalty. Knowing who experiences high effort allows service and customer care managers to proactively identify at-risk customers and mitigate customer churn.
Customer Satisfaction (CSAT)
CSAT measures customers' perception of whether a company's product or service meets their needs and expectations. Service and support leaders can use CSAT primarily to gauge the satisfaction level of specific aspects of their interactions, such as the CSR they spoke with or the channel they used. CSAT information is typically obtained through a post-transaction survey, but it can also be collected through voice analysis or other Voice of the Customer (VoC) methods.
Gartner studies show that NPS results are better indicators of loyalty than CSAT. However, CSAT provides a more practical and tactical view of shortcomings in processes, people, or technology in a customer service interaction, enabling customer service and support leaders to focus on customer pain points and address performance issues.
If NPS remains necessary, adapt it
In general, organizations should recognize that NPS captures customer intentions but not their actual behavior. Consequently, it is not advisable to overly rely on a single measurement to determine performance and loyalty, due to the risk of data manipulation to achieve desired objectives.
Publicado originalmente el 4 de October de 2023, modificado 6 de November de 2023
Comparte este artículo