When you make the decision to outsource certain services, it's because you have already seen all the benefits that come with this type of hiring for your business. At this point, you have already evaluated the cost difference between subcontracting and internal hiring, meaning you have already assessed the cost savings that having this type of service would provide you. But knowing exactly how to choose the best BPO service provider for your company? Well, the truth is that this involves carrying out certain tasks to make the right decision about which supplier is best for your business.
Evaluating which of all the companies that offer what you need is perfect for you, or alternatively, which one best suits the needs and challenges you have as a company… This can be a somewhat challenging task, as there are various factors that need to be taken into account.
En este artículo, veremos algunos puntos o In this article, we will look at some important points or tips that can shed some light on selecting the perfect provider.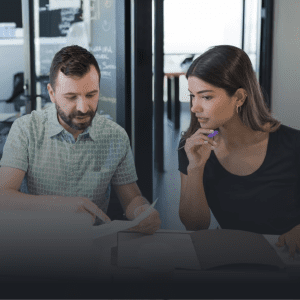 1. The first thing to consider is the specific needs of your business: it's time to put on the table what you require and based on that, establish clearly:
• What challenges do you have?
• What specific tasks do you want to outsource?
• What are your most important criteria?
• For how long do you think you would need that personnel?
• Once you have these points clear, we can start narrowing down our list of suppliers to those who align with what you need.
2. The second step is to research and investigate: at this point, you should obtain a list of suppliers or providers, request quotations according to your requirements, check the opinions of colleagues or companies similar to yours who have had contact with some of them, assess their particular opinions, verify customer ratings or reviews on Google, social media, etc.
At this stage, having multiple quotation options is relevant to evaluate what suits your business best.
3.Thirdly, we will evaluate the budget and costs of the received quotations,ensuring that all the details are budgeted for and that there are no undisclosed expenses in the quotation. These expenses could include additional training fees, costs for personnel changes, etc.
At this point, having everything clear and in writing is the best approach. It also helps establish a closer and more personal relationship with the supplier, so that these matters can be handled in the best way possible.
4. In the fourth step, you should schedule individual meetings with the service suppliers: after reviewing all the previous details, it's time to schedule meetings with the contacts from the supplier companies to ask necessary questions and see if their company values align with yours and if potential business can be conducted.
5. Fifthly, assess if there is a "good vibe." If you have a good feeling about a company, go with it. If you're not sure, it's better to keep searching or gather more information.
6. Last but not least, there are Service Level Agreements (SLAs). These are agreements that document the commitments made between the supplier company and the client, including the types of services to be provided, the levels of these services, and how these services will be delivered.
Here are some tips to consider when selecting a BPO service provider:
Reputation: What do other companies say about this supplier? How is their customer satisfaction history?
Response time: What do their former clients say about response times? Do they meet the agreed-upon deadlines? Are they flexible in case of non-compliance?
Company culture, which leads to a long-term relationship based on trust: When outsourcing BPO services, your company becomes dependent on them in many aspects. That's why it's important to trust your supplier and have a close working relationship. Effective decision-making requires fluid and constant communication. Therefore, it's crucial to assess the values of the company in question and determine if they align with our own philosophy, etc.
Capabilities: Can the company tackle the challenges for which you want to hire them? Do they have the necessary resources and talent? In case a talent doesn't perform well, can they replace personnel?
Experience: How long has the company been providing these services? Do they have experience in your specific sector?
Security: How will they protect your data? Do they have the necessary security measures in place?
Cost: What are the additional fees associated with their services? Are they affordable for your business? Can your business handle these actual costs?
Taking into account these important points will help you choose the best BPO service provider for your company.
In conclusion, when it comes to Business Process Outsourcing (BPO) for your company, it is crucial to undergo a thorough evaluation process based on various key factors. By considering aspects such as the provider's experience and reputation, their ability to adapt to your company's specific needs, the quality of their services, data security, operational efficiency, flexibility, and cost, you will be able to make an informed decision.
Publicado originalmente el 23 de May de 2023, modificado 4 de August de 2023
Comparte este artículo