The data doesn't lie. Creating a good user interface (UI) can dramatically increase website conversion rates by 200%, while optimizing the user experience (UX) design could even push that rate up to 400%.
What is setting the pace in this discipline, and how has AI impacted best UX UI practices?
For example, one of the key trends is storytelling your brand instead of just showing it. Sounds interesting? The rest of the Top 10 trends are just as exciting!
Check them all out below and let us know if they make sense to you in the comments.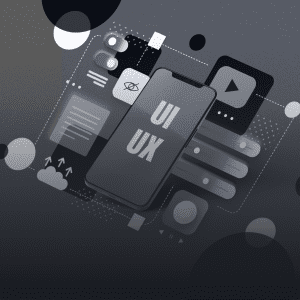 Voice User Interface (VUI)
Voice user interfaces are a great way to add convenience, simplicity, and efficiency to websites and applications. By adding voice commands, users can navigate a website or application or even respond to basic questions.
As more and more people become accustomed to interacting with technology through voice commands, implementing a VUI can be advantageous for many companies.
Bold and Sophisticated Typography
Large and eye-catching fonts are what make content stand out and attract users today. Think about using oversized headlines, custom fonts, and other typographic elements that will give your website or publications a fresh and modern look.
Speeding up Design Creation with Generative AI
Generative AI, which uses machine learning to create unique designs based on user input, is the UI trend we will see in 2023 that will accelerate the design process.
From logo creation to web design, generative AI can help designers quickly and efficiently create unique visual elements.
Accessibility, an Essential and Indispensable Aspect
Today, all European countries are required to implement accessibility standards for a wide range of products and services, including computers, operating systems, ATMs, smartphones, banking services, e-books, and online shopping.
Everything is Figma
One of the main UX design trends that will emerge in 2023 is the significant migration of Adobe XD users to Figma. This trend is driven by several factors, including Figma's collaboration features, which allow multiple team members to work on a design simultaneously in real time, as well as its ability to easily share designs with stakeholders for feedback.
Another advantage of Figma over Adobe XD is its browser-based interface, which allows users to access their designs from any internet-connected device. This is particularly useful for remote and freelance teams that need to work on designs while on the go. This feature represents a radical shift in the current culture of remote work.
Utilization of card elements in the user interface
In a sea of new designs, nothing beats the use of card components. This year, in the 2023 UI trends, using more card components is the way to go!
From efficiency to ease of use, card components can enhance UI/UX design by reducing cognitive load and providing a visually pleasing design By breaking down complex information into smaller chunks, they can also provide better context and make any material design easier to digest.
Furthermore, card component designs help achieve minimalist interfaces. Although they can contain large amounts of content and data, cards have a relatively small size and can conserve valuable space Additionally, their organized design helps speed up page loading time and improve overall performance.
Clear and Dark Theme Alternatives
If last year, the dark mode was unique and undisputed, today the light mode emerges as part of what user personalization entails.
The light mode is often used to convey a positive tone, while the dark mode is usually associated with a more elegant and serious ambiance. This trend in UI design is a great way to give users the freedom to choose how they interact with your product. Moreover, it also provides a more enjoyable experience for those who may have light sensitivity.
Don't showcase your brand, tell its story
The challenge for all designers is to maintain user interest. That's where storytelling comes into play. In 2023, UI trends will focus on creating experiences that engage users and make them feel part of a story.
This year, you'll want to master the art of using plot and conflict to tell a captivating story about your brand. The beauty of storytelling is that it can be used in many ways, from onboarding experiences and product tours to landing pages or homepages.
Implementing virtual reality and augmented reality in UI design
Although still in its infancy, the world of augmented reality (AR) and virtual reality (VR) UI design is growing rapidly. As technology advances and these two areas of UI/UX become more popular, expect to see more of them in 2023.
For UI designers, this means they will need to start considering how to deliver an immersive experience in their designs. This involves creating fluid and highly interactive interfaces.
From how we design to what we design
Itai Vonshak, the Director of Google's design platform, shared two trends about how we build and what we build. He believes these UX design trends will thrive in 2023 and shape how we design things in the future.
In his talk, he discussed the revolutionary design-to-code platforms like Figma, Webflow, Wix Editor X, and Anima, which will completely reshape how UX designers do their work. The past years have shown us the power of design-to-code platforms, which reduce development time and bridge the gap between designers and developers.
Personalization is another interesting point. Creating customized designs and experiences that adapt to each user's preferences, especially for user niches that require accessible design, is a practice that design teams should follow. While designing for the average person may be easier, we should think about designing with "you" in mind.
Publicado originalmente el 13 de June de 2023, modificado 4 de August de 2023